Dental implants are designed to provide a foundation for tooth replacements that look, feel and function like natural teeth. They can help patients regain comfort and confidence to eat, speak and laugh.
---
What are the advantages of dental implants?
Dental implants are designed to look, feel and function like natural teeth.
Implants are tiny titanium posts placed in your jaw bone. They create a strong foundation for artificial teeth or implant-assisted dentures. Dental implants can also help preserve facial structure.
Evaluation for dental implants
If like many others, you feel implant dentistry is the right choice for you, we will take x-rays to determine if you are a candidate for dental implants. 
During your consultation, we will discuss your smile goals and review your treatment plan with you.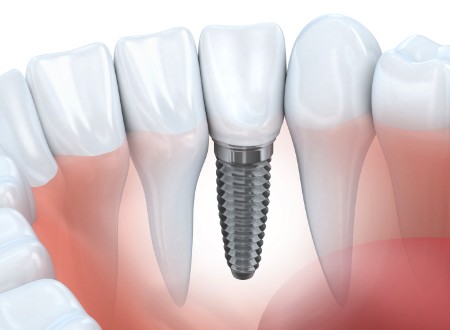 Dental implant procedure 
Stage One: The planning phase. We'll take a CBCT, a digital scan of the tooth area to prepare a surgical guide for your implant(s).
Stage Two: The second phase of the implant procedure is surgery. Your dentist will place the dental implant into your jawbone beneath your gum tissue. As the tissue heals, the bone will bond with the implant. This process takes several months to heal.
Stage Three: Once the implant has had a chance to go through the process of osseointegration (formation of strong contact between the implant surface and surrounding bone tissue), your dentist will place an attachment on your implant. A scan or impression will be taken and sent to our lab to fabricate the abutment and the crown. This abutment is a post that connects the replacement tooth crown to the implant
Stage Four: At the final stage, we'll insert the final lab fabricated crown and secure the fit.
Post-operative checkups will be scheduled during the year so your dentist can be sure your implant(s) are working properly.
---
« Go Back